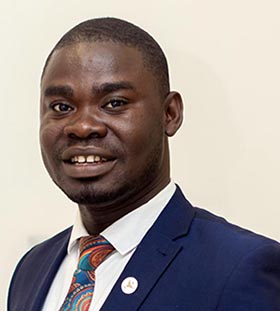 Benson Owusu is a Registered General Nurse at the Greater Accra Regional Hospital, Accra Ghana, with over a decade experience in paediatric and intensive care nursing. Benson is also a lecturer at the School of Medicine and Health Sciences, Department of Nursing, Central University.
As a Christian nurse who has passion for community service, he founded Quik Medical Consult©, a non-governmental organization with over 200 medical and non-medical volunteers. Through television broadcasts, radio, medical outreaches, and various types of social media, Quik Medical Consult© volunteers provide health education to communities in Ghana. They also raise funds to support children who need surgeries, but whose parents are unable to afford medical costs. Over $73,000 has been raised for that purpose.
Benson's work has been recognized in Ghana and beyond, having received numerous awards including Africa Health Personality of the Year, Best Nurse at the Greater Accra Regional Hospital and Korle Klottey District in Accra, and Social Media Health Personality of the Year. Benson is named among the top 100 speakers in Ghana and among the top 50 CEOs in Ghana. He is a regular guest on national television and radio.
Benson is a member of the SEP (Spiritual Education Project) and a Spiritual Care Scholar with research interest in Spirituality and Spiritual Care Nursing. He is currently a PhD candidate in public health at the University of Ghana. He holds a Masters in Public Health (Epidemiology and Disease Control) from the same University, a Bachelor of Science in Nursing from Central University, and a Diploma in Nursing from Korle-Bu Nursing and Midwifery Training School, all in Accra-Ghana.